Tel: +86-0755-32829861
Fax: +86-0755-32829861
E-mail: info@chondatech.com
E-mail: chondatech@gmail.com
Skype: chondatech




DC DC converter input 100V to 2000V dual output 15W

Mainly founction features:
Input: DC DC wide input voltage 160-2000VDC
Protection: input over voltage protection,short circuit over voltage protection,can meet customers' special request.
Outline sealed: ultra-thin small integration design, high efficiency high density
Cooling method: Natural cooling, without additional radiator
Power: 15W
Industrial standard produts design, international size

Products type:


Input characteristic:
Input voltage range:(160-2000VDC)
Input current: 160VDC 2000VDC
NH15 200 30
surge current 1A (TYP) 150V 2A (TYP) 2000V(MAX)
Output characteristic:
Output voltage steady accuracy: ±1%
Original source effect: ±0.5% (typ) main current, ±1.5% secondary current
Load adjust rate: (10%~100%) ±2% (typ) main current, ±1.5% secondary current
Min load: 0%
Output ripple and noise(peak value): 300mV(typ) (20MHz Bandwidth)
Short-circuit protection long time Continuous,/automatic resume
Output over exceed current protection ≥1.1 times
Note: ripple and noise use the parallel test method
Woking temperature: -25℃~+70℃
Power reduction rate:3.75% / ℃
Storage temperature:-40℃~+105℃
Outshell temperature:+90℃ max
Cut off current time:80ms(typ)/ at Vin:300VDC
Start delay time:500ms(typ)/ at Vin:300VDC
Dynamic response: 25% standard load move rate ±0.5%/500uS
Humidity: 98% max
Temperature drift: 0.02%/℃
Switching frequency: 65-100kHz(typ)
Efficiency: 75%(typ)
Insolation: 3000VDC/1Min
Insolation resistance input to output : 500Vdc 100000G
Saftey class: CLASS Ⅰ
MTBF: >215,000h @25℃
Suggestion typically application ( can promote the EMI/EMC )


l Input filter parts:
1. if the products used for the high EMC occasions, where have to add "EMC filter", C4: advise 0.33uF/2000VDC or higher capacitance value, NF: common mode choke advise 30MH
2. MOV voltage dependent resistor, Model: 152KD14,need two in series connection. you can connect by real situation to protect power module when lighting stroke the surge. Fuse have choose he high stand voltage fuses,0.5A-1A.NTC use 5D-9 be available.
l Input start parts:
RD1 is resistance for 25KΩ,advise watts 10W,
RD2 is resistance for 200KΩ,advise 50W, allow the start time,the resistance can be changes 在from 200KΩ-3MΩ,the smaller resistance,the faster the start time.

Dynamic load response: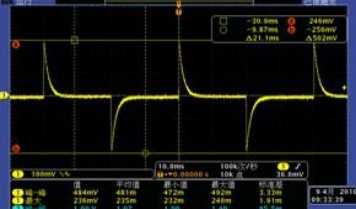 Size:


| | | | | | | | |
| --- | --- | --- | --- | --- | --- | --- | --- |
| pin number | 1 | 2 | 3 | 4 | 5 | 6 | 7 |
| single | VDD | Vin- | Vin+ | NC | -V0 | NP | +V0 |
| dual | VDD | Vin- | Vin+ | NC | -V0 | COM | +V0 |
| definition | input start | negative input | positive input |   | negative output | output pulic pin | positive output |